A circular cruise from Dartmouth sailing the lower part of the River Dart viewing the castles at the estuary, Britannia Royal Naval College and towards Agatha Christie's Greenway Estate.
Prices

Adult:

£9.50

Child:

£6.00

Concession:

£9.00

Family:

£29.00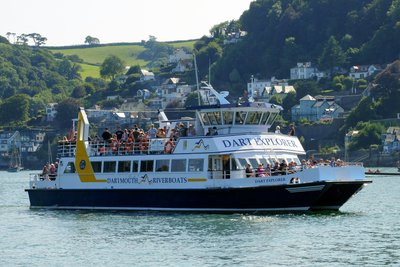 From early May to September, this cruise is predominantly on the historic paddle steamer "Kingswear Castle". The Kingswear Castle is the last remaining coal-fired paddle steamer in the UK. She was built in 1924 at Philip & Son of Dartmouth and has been lovingly restored to her former glory, beautifully reflecting the style and craftsmanship of a bygone era. In addition to scheduled services on the river Dart, she offers the most unique cruise and charter experience in the whole of the UK.
A Typical Day's Itinerary
Cruise from Dartmouth

-

55 minute cruise to Dartmouth

Arrive back in Dartmouth
Book your Dartmouth River Cruise tickets now - Buy Tickets
Take a wonderful circular boat trip (starts in and returns to Dartmouth) viewing Bayards Cove, Kingswear and Dartmouth Castles, Britannia Royal Naval College, Dittisham Village, Sir Walter Raleigh's Boathouse, Greenway Quay and The Estate of the late Dame Agatha Christie. A lovely addition to your day out in Devon. Full, informative (and usually amusing!) commentary is provided. This is a circular trip that starts and finishes in Dartmouth.
This cruise departs daily at 11:00, 12:15, 13:30 & 15:15. Duration approximately 1hr.
Please note: the paddlesteamer Kingswear Castle season runs from the beginning of May to September.
View all our ticket options - Find Other Tickets
Reviews
Stunning views

-

The views from the boat were stunning and the handy (and hilarious) commentary by the crew helped point out things of local interest. Loved it :)
Grand day out!

-

I thoroughly enjoyed the whole trip, from the steam train to the ferry ride and of course, the boat trip. The designated seating and screens made me feel very safe. Well done!
Delightful

-

The staff were all very friendly and the captain kept us entertained with his 'dad jokes' throughout. Recommend 100% for all ages. Great trip. Thank you.